Tiles & Flea Market in Alfama
This tour is dedicated to all our guests that want to plan a different morning in Alfama. It offers a perfect combination of old and new Lisbon: local history to learn, tiles facades to admire, local people to meet, and a bustling flea market – Feira da Ladra – to experience. Always with the company of a dedicated guide, that can adjust the program to your needs and time, we promise to show you the authentic Lisbon you will never forget.
Tour Information and Prices:
Duration: 2 Hours minimum
Days: Every Tuesdays and Saturdays
Suggested time to start: 10h00
Minimum nr. of participants: 2
Tram ticket: In case you feel tired, we included tram tickets on the tour for your way back to the hotel.
We work with Tailor Made Travel on all our tours, and all trips are private and customized. Although we propose itineraries, these are merely suggestions and can be changed during the tour depending on your interests and wishes.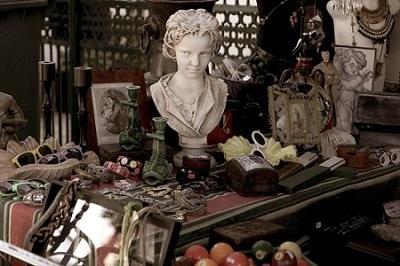 ---
WHY THIS IS A SPECIAL TOUR
Lisbon's flea market "Feira da Ladra" is thought to be named for the first time in the 17th century, and is still one of the most famous markets of the city. Locals and visitors get together every Tuesday and Saturday, to find unexpected treasures or simply to observe the traders displaying their finds in small stalls or stretched-out blankets. From artisan goods, cloths, old records, coins, antiques and furniture, is still possible to find a good bargain and take a one of a kind souvenir home – where do you thing the old vinyl records on our bedrooms came from?!
On the way to the market, it will be impossible not to notice the beautiful tiles facades on Lisbon buildings. Many countries have tile art, but in Portugal they became a part of the building and they're used as a construction material as well as decoration. They are a strong presence of our heritage, and fantastic examples will be easily found on this tour, making this walk around the neighborhood even more photogenic.

For more information or any questions - Get in touch
---